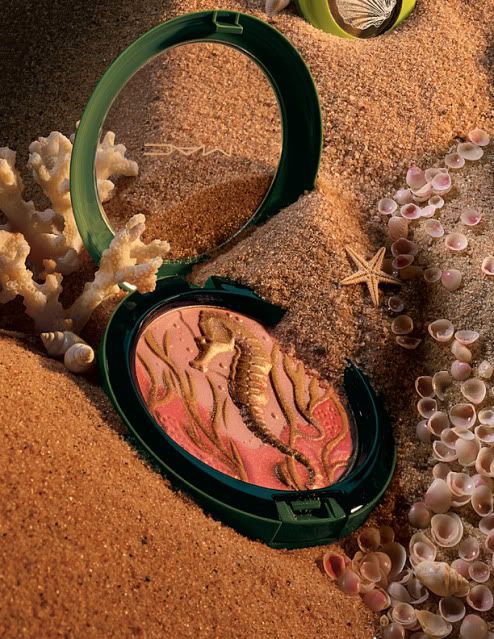 MAC Cosmetics recently released a wonderful new summer collection called 'To the Beach'. Pretty bright colors that scream 'summer' and golden bronzers to get that perfect summer glow.
Mac campaign:
The seaside has a kind of golden, sexy alchemy we're all drawn to. This collection encapsulates it with the most soothing, sultry shades of summertime. A safe way to bronze, beautify, and get color that looks sunkissed. Close your eyes, and go To The Beach!
The entire collection has sea-inspired packaging with shells, starfish, seahorses and corals.
Like what you see? You can get your hands on the MAC collections in various big cities (Ghent, Antwerp, Brussels) and starting July 1st also at the beach! That's right, MAC Cosmetics is opening a store in Knokke, so you literally have to go to the beach to get that ultimate sunkissed glow!
Dutch translation:
MAC Cosmetics lanceerde onlangs een wondermooie nieuwe zomercollectie genaamd 'To The Beach'. Mooie felle kleuren die gewoonweg 'zomer' schreeuwen en gouden bronzers voor die ultieme zomerse gloed. De hele collectie is geïnspireerd op de zee met zijn verpakkingen met schelpen, zeesterren, zeepaardjes en koralen. Like what you see? Je kunt de MAC collecties in verschillende grootsteden terugvinden (Gent, Antwerpen, Brussel) en vanaf 1 juli ook aan het strand! Jup, MAC Cosmetics opent binnenkort een store in Knokke, dus moet je letterlijk naar het strand om die ultieme sunkissed glow te verkrijgen!